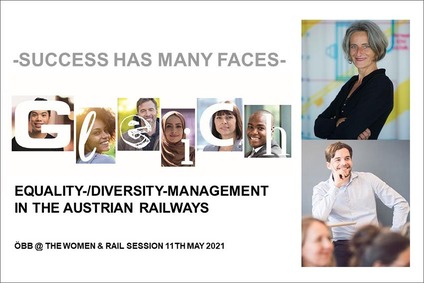 ÖBB joined the World Bank Group's information session Women & Rail to share best practices on bringing women into the railway's workforce. The event was attended by up to 60 participants representing some of the European rail companies, development partners and the World Bank's internal staff. "We started with 8% women in 2011 and we're at 13.6% now," says Traude Kogoj, ÖBB's head of diversity management. Kogoj says ÖBB's goal is that 20% of new recruits should be women.
Transport workers tend to be men, by a wide margin. In Europe and Central Asia, on average, 77% of those employed in transportation are men; just 23% are women. This can have an impact on women riders' experiences. Linda Van Gelder, the World Bank's regional director for the Western Balkans, says, "a lack of gender responsive transport services and a dearth of women employed in the transport sector reinforce each other." Hiring more women, and listening to their perspectives, can lead to a more inclusive transport service.
This is important because railways are critical for moving Europe from a high- to a low-carbon economy. Making railways safer, cheaper, and more attractive to all users, women and men alike, is vital to this goal.
Women are a key part of a diverse work force and, in transport, they are the biggest single group of customers-- more than half of ÖBB's passengers are women, which mirrors the makeup of public transport riders worldwide. Employing more women in transport can lead to more inclusive services—security, better lighting, access to toilets, and cleanliness are important for all riders.
ÖBB is making diversity a priority. "We use a lot of different measures around diversity," says David Gansrigler, who works in the diversity management unit. ÖBB uses gender neutral language in its job postings, internal support for people with disabilities, charts to monitor diversity, outreach events, mapping, and training. Measuring diversity is a key to managing it; collecting data on mobility by sex is critical for addressing, and then lowering, barriers for everyone.
About a quarter of ÖBB's top managers are women. To get more women out into the field, into traditionally male-dominated jobs like crane operators, engineers, maintenance managers, railway managers must re-think the basics. Women need personal protective clothes that actually fit them. They need places to change into their work clothes, to shower, access to toilets. These are all important steps in making railway hiring more inclusive.
And, finally, all of this matters. Studies show that diversity brings higher employee satisfaction and retention. Progressive management, tied with railways' potential as a low carbon form of transport, bring mission-driven employees into the workforce. And, of course, diversity improves passengers' experience, as well, bringing new ideas and new experiences to help lower barriers and pull in new customers. Opening rail and transport to women and men—both as a way to travel and a place to get a job—is a key step in unlocking the potential of railroads to provide environmentally sustainable transport and green growth.